Digital Neuro-rehabilitation Platform - REAtouch® Home
Neuro-rehabilitation application available on personal tablet
DOWNLOAD THE APPLICATION ON YOUR TABLET SOON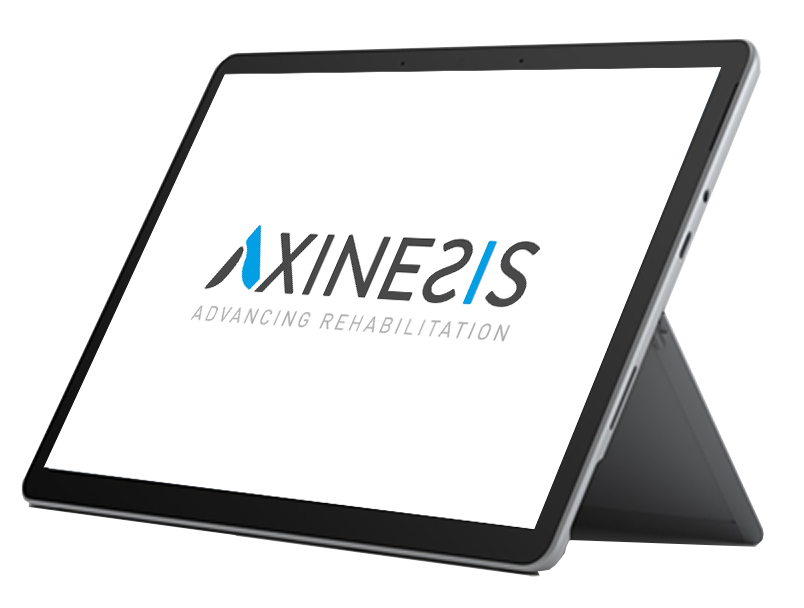 REAtouch® Home is a software application built on evidence-based interventions and dedicated to assist in the rehabilitation and the assessment of brain injured patients. It supports patients in their long-term rehabilitation at home by downloading an application onto a phone or tablet.
More precisely, this software is a platform including serious games, functional exercise videos, therapeutic education, and assessment modules. Those modules support a personalised and functional neurorehabilitation according to the patient's needs and objectives. This rehabilitation is performed in autonomy (self-rehabilitation) thanks to a personalised program computed by the therapist. The program is regularly adapted at a distance, in accordance with the evolving needs of the patient, thanks to a tele-rehabilitation module integrated in the REAtouch® Home platform.  This complete framework facilitates access to healthcare.
Like a rehab suitcase, every therapist can easily appropriate the exhaustive content of REAtouch® Home, to provide a personalized and adapted program to each patient. More precisely, serious games stimulate practice, repetition, and motivation. Exercise videos help patients to rehabilitate themselves according to their abilities and functional objectives. Therapeutic education allows patients to improve knowledge and self-management of their condition. Moreover, the assessment module makes it easy to monitor progress over the long term.
Monitoring patients progress, also in an application
The REAtouch® Home also includes an assessment module as data reports. This module enables the therapist to monitor the patient's daily activities with the software and functional progress, even at a distance. This monitoring means that patients' personalized programs can be constantly adapted to their evolving needs and updated objectives. The reports containing these quantitative data can be easily consulted and downloaded to facilitate long-term patient follow-up.
Continue neurorehabilitation in autonomy at home
REAtouch® Home also includes self- and tele-rehabilitation modules. Those modules contribute to the personalized neurorehabilitation of patients over the long term at home.  As effective as with a therapist, self-rehabilitation allows patients to increase the number of rehabilitation sessions. Telerehabilitation allows audio-visual appointments with the therapist remotely. During these remote sessions, the therapist supports the patients, analyses their progress and adapts the rehabilitation program in accordance with their evolving needs and objectives.